Uprootedpalestinians's Blog
Merkel says no to weapons for Kiev, US objects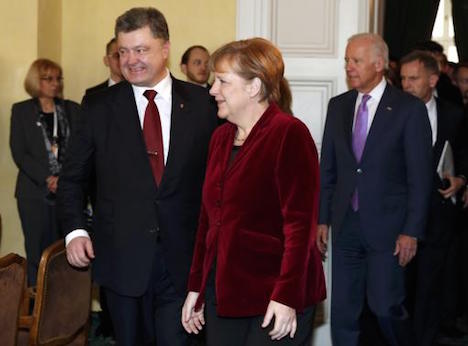 Ukraine's President Petro Poroshenko, German Chancellor Angela Merkel and U.S. Vice President Joe Biden (L-R) arrive for a meeting during the 51st Munich Security Conference at the 'Bayerischer Hof' hotel in Munich February 7, 2015.

Germany's Angela Merkel said on Saturday that sending arms to help Ukraine fight pro-Russian separatists would not solve the crisis there, drawing sharp rebukes from U.S. politicians who accused Berlin of turning its back on an ally in distress.
The heated exchanges at a security conference in Munich pointed to cracks in the transatlantic consensus on how to confront Russian President Vladimir Putin over a deepening conflict in eastern Ukraine that has killed more than 5,000.
Ukraine's military said on Saturday that pro-Russian separatists had stepped up shelling of government forces and appeared to be amassing troops for new offensives on the key railway town of…
View original post 893 woorden meer