Asked on Fox about the Kremlin chief's bloody reputation, the US president said: 'We've got a lot of killers. Do you think our country's so innocent?'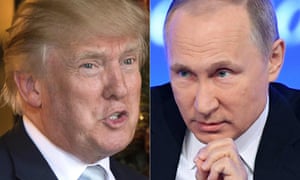 Donald Trump has once again said that he respects Vladimir Putin, even though the Russian president is "a killer".
Speaking to Fox News, the president appeared to place the US and Russia on the same moral plane in an interview to be broadcast before the most American of sporting events, Super Bowl LI, kicks off in Houston on Sunday.
Asked by host Bill O'Reilly if he respected Putin, Trump replied: "I do respect Putin."
Trump's respect for and willingness to work with Putin was a familiar trope during an election which the major US intelligence agencies believe Russian intelligence sought to influence on Trump's behalf. Such beliefs prompted a fierce split between Trump and the intelligence community which has not yet healed.
The two presidents spoke by phone last weekend, a conversation reportedly much smoother than calls with leaders of allies such as Australia. A summit meeting has been mooted by both governments.
Trump continued: "I respect a lot of people, but that doesn't mean I'm going to get along with them. He is a leader of his country. I say it's better to get along with Russia than not and if Russia helps us in the fight against Isis which is a major fight, and Islamic terrorism all over the world, major fight, that's a good thing.
"Will I get along with him? I have no idea. It's very possible I won't."
"He's a killer, though," O'Reilly said. "Putin's a killer."
"There are a lot of killers," Trump answered. "We've got a lot of killers. What, do you think our country's so innocent?"
According to the Committee to Project Journalists, 36 journalists have been murdered in Russia since 1992, 23 since Putin first became president in 2000. Most famously Anna Politkovskaya was shot dead in 2006 while investigating torture in Chechnya.
The subject has arisen before in connection with Trump's view of the Russian president. In December 2015, MSNBC host Joe Scarborough told Trump: "He kills journalists that don't agree with him."
Trump answered: "Well, I think that our country does plenty of killing, too, Joe."
The same week, Trump told ABC News: "In all fairness to Putin, you're saying he killed people. I haven't seen that. I don't know that he has."
He added: "If he has killed reporters I think that's terrible. But this isn't like somebody that's stood with a gun and he's taken the blame or he's admitted that he's killed. He's always denied it.
"It's never been proven that he's killed anybody, so you know you're supposed to be innocent until proven guilty at least in our country he has not been proven that he's killed reporters."
Trump has said he accepts reports that Russia was behind hacks against his Democratic opponent, Hillary Clinton, but rejected the notion that he could not have won the White House without Russian help. Investigations into links between Trump aides and Russian actors are ongoing.
Critics of Trump have often raised the subject of Putin's murderousness. The Arizona senator John McCain, a fierce opponent of lifting sanctions on Russia, a prospect with which Trump has flirted, has said the Russian president is "a murderer and a thug".
Fox also said Trump answered a question from O'Reilly about his oft-stated but never evidenced belief that his defeat by nearly 3m ballots in the popular vote was caused by massive voter fraud.
"When you see… people who are not citizens and they are [on] the registration rolls… it's a really bad situation," Trump was quoted as saying.
Trump said he was willing to work with both Kiev and Moscow to resolve the separatist conflict in eastern Ukraine, following a telephone call with Ukrainian president Petro Poroshenko on Saturday.
The call was the first direct contact between the two leaders since the inauguration of Trump, whose aim to improve relations with the Kremlin has alarmed Kiev while the nearly three-year-old conflict remains unresolved.
It followed fresh artillery attacks in Ukraine's Donbass region, which broke a lull in shelling at a frontline hot-spot that had raised hopes the conflict's worst escalation in months was waning.
"We will work with Ukraine, Russia, and all other parties involved to help them restore peace along the border," Trump said in a White House statement after talking to Poroshenko.